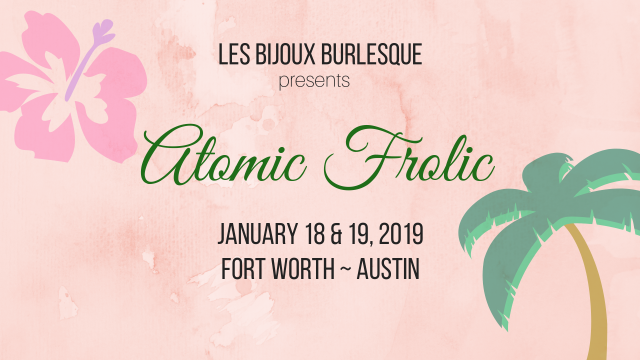 "Atomic Frolic Burlesque"
Featuring Ruby Champagne (LA) and Jessabelle Thunder (LA)!
Les Bijoux Burlesque will once again partner with Java, publisher of Bachelor Pad Magazine to present the "Atomic Frolic Burlesque," 8:00 p.m. Friday, January 18th at The Ridglea Room in Fort Worth, and 8:00 p.m. Saturday, January 19th Stateside at the Paramount Theater in Austin, Texas.
This is the 11th annual Atomic Frolic show; a celebration of mid-century culture and glamour featuring a parade of beauties coming to life from the covers and pages of Bachelor Pad Magazine.

We are thrilled to present our 2019 headlining performer, Ruby Champagne! The currently reigning Miss Tiki Oasis, Ruby Champagne is an international burlesque showgirl and winner of Miss Viva Las Vegas. Joining her will be fellow Hollywood burlesque star Jessabelle Thunder, Austin's Ruby Joule, Dallas' La Divina and many more!
*FT. WORTH*: Friday, January 18th, 2019
The Ridglea Theater ROOM, 3309 Winthrop Avenue, Fort Worth, TX
~~~
*AUSTIN*: Saturday, January 19th, 2019
Stateside at the Paramount Theatre, 719 Congress Ave.