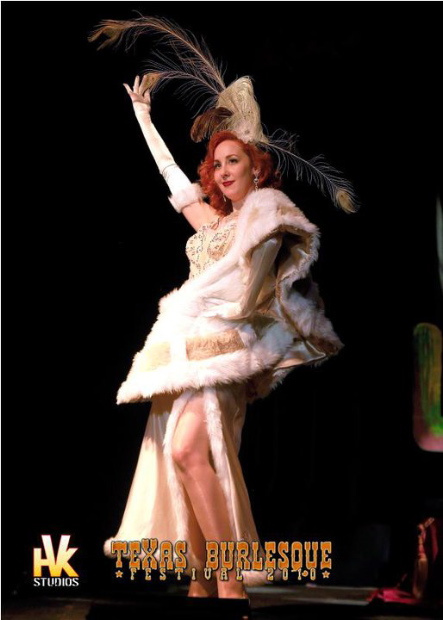 The Screen Siren - A provocative tribute to Hollywood's temptresses with nods to Rita Hayworth and Jean Harlow, this elegant and steamy striptease combines the opulence of fur, creamy satin and jewels for the ultimate silver screen fantasy. This act won "Best Costume" at the 2010 Texas Burlesque Festival, as voted by burlesque legends Satan's Angel, Tiffany Carter and Dusty Summers, and also took the prize for "Best Debut" and "Most Classic" at the 2012 Burlesque Hall of Fame pageant.
Pink Diamonds - Two iconic films, one unforgettable act! In this signature number, elements of Marilyn's fuchsia dress from Gentlemen Prefer Blondes and Satine's costume from Moulin Rouge! are combined to stunning effect. An extravagantly bedecked swiveling stool provides the perfect setting for this dazzling gem.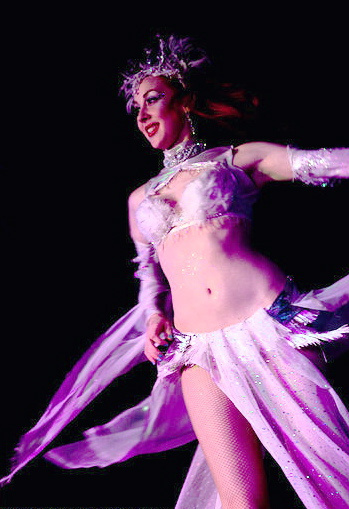 The Snow Queen - This number starts out pure as the driven snow, to a winsome 1950s orchestral melody.... but as it melds into a blend of haunting electronica and the tempo drops, so do the layers of the Snow Queen's frosty exterior. She is freshly fallen, untouched by man; with longings that would make a snow-angel blush. Ethereal vocals find their place as the Snow Queen unfurls her glimmering "northern lights" (specialty fabric prop), filling the air with snow. As her icy starlight seduces you with its unearthly magic, snuggle up to a beautiful stranger and let the fantasy begin!
The Bomb Samba - In this number, Ruby must find the perfect disguise for going undercover (uncovered?) in Brazil. Inspired by a headpiece of electric fuchsia and tangerine, she dances right out of her coatdress revealing layers of a swinging ensemble that would make Bob Mackie proud. With some whimsical Fosse-esque choreography thrown in for good measure, this number reaches a thrilling crescendo as hips bump and shimmy with precision to an authentic carnaval drum fanfarra.
Decadence - a mesmerizing ode to the intoxication of passion, this number is a heady blend of lyrical grace and wanton allure. The costume is sumptuous jewel tones in velvet and satin, and is sometimes performed with a bejeweled sleeping mask for added effect.
Little Evil Me- This is a classic burlesque piece in which "good girl" Ruby attempts to shed her pristine image... and her party frock! She flirts with such crimes as telling lies, drinking booze and cheating at jacks, all the while unraveling her inhibitions- and her garments. Miss Ruby may never be evil, but she certainly has fun trying! Performed to Eartha Kitt's 1953 "I Want To Be Evil," this swirly number is a perfect match for Eartha's wanton purr and ironically prim lyrics. The act begins with a costume of pure frothy white, and slowly reveals underpinnings of Parisian pink and black.
This is but a small sample of Ruby's repertoire. Other acts include:
Classic High Glamour
Rubies Are Red

Fan Dance in Royal Sapphire

Queen of the Night

Merry Widow of New Orleans

"Teaserama" Tribute
Cheeky and Humorous
Miss America

Champagne Taste (vocal & striptease)

The Sugar Plum Fairy

Candy Girl

The French Exchange Student
Dramatic Mood...
Rock and Roll
Mermaid on the Rocks

Love Reign O'er Me